Collision Center
Our highly qualified collision repair team will restore any degree of accident damage on your vehicle. Our goal is to return your vehicle to you in its pre-accident condition. Quality repairs and your safety in the vehicle are our main priorities in the collision repair center. We will handle your insurance claims through direct communication with your insurance company and answer any questions you may have about the process.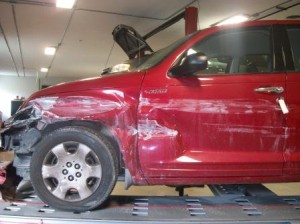 Our experienced technicians will give you fair and competitive estimates on any of your collision repair needs. We will provide you with a free estimate and will take the time to explain the process and necessity of the repairs. We think that it is important that you know why your vehicle needs the repairs our staff suggests to you. To get your free estimate today, you may call us at 814-476-4040 or send us an email at service@eagle-auto.us. No appointment necessary!
We provide you with free and fair estimates.
We get your accident repairs completed in a timely manner- so you can get back to your regular schedule.
We honor ALL insurance claims and communicate directly with your insurance company.
Trust us to handle all of your collision repair
and auto body repair needs!
If accident damage to your car has made it unsafe to drive, call Eagle Auto Service & Collision Center for your towing needs:
Light and Medium Duty Towing
Off-road Recovery Service
Emergency Tow Services
Scheduled Pick-Ups
814-476-7299
We take the "OW"
out of TOW!